Charger for WingtraOne Batteries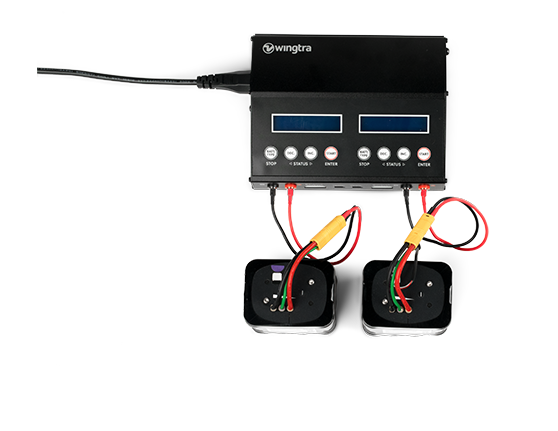 Charging empty batteries takes approximately one hour. Once the charging is finished, you'll get an audio confirmation, and you can see the message "finish" on the display (16.4 Volt corresponds to fully-charged batteries). Press "stop" before you disconnect the batteries. Always use and charge the 4S batteries in pairs as they are labeled (pairs have the same number and color), i.e., do NOT fly with two batteries that have different color labels.
Select the mode by clicking on "Batt Type," navigate to LiIo mode with the "Dec" and "Inc" buttons, and confirm with the "start/enter" button
Set the charging current to 7.5A, which corresponds to 1C. To do this, press "ENTER" to start changing this setting, and press "Enter" again to confirm
Confirm your settings by pressing the "enter" button for two seconds
Check the settings (LiIo CHARGE mode, 7.5A), and confirm by pressing "enter".