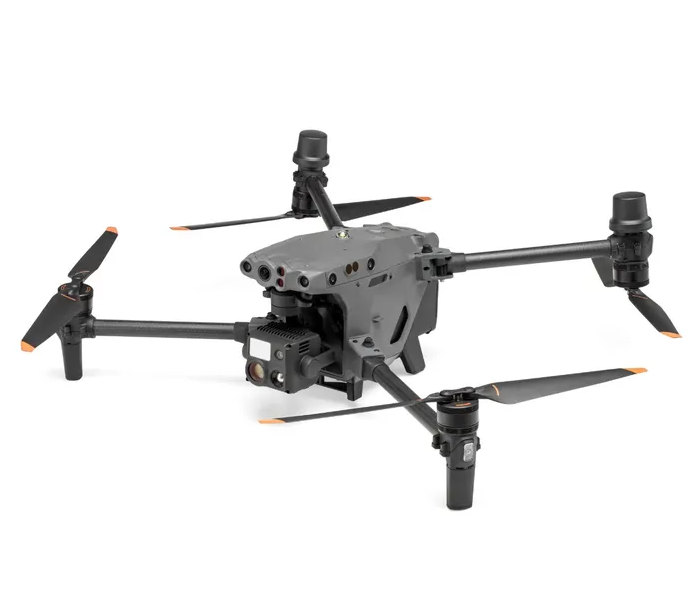 Battery:

LiPo 6S

Battery Capacity:

5880 mAh

Battery life:

Up to 41 min.

Digital Zoom:

200x

Focal Length:

40mm

Folded Dimensions:

365x215x195 mm

FOV:

65° (H), 50° (V)

Manufacturer:

DJI

Max Flight Speed:

23 m/s, -33 mph wind resistance

Max Flight Time:

41 min

Max Take-Off Weight:

4000 g

Operating Frequency:

2.4000-2.4835 GHz; 5.725-5.850 GHz

Optical Zoom:

5-16x

Resolution:

1920×1080

Sensor Type:

Zoom: 1/2" CMOS, Effective pixels: 48M, Wide: 1/2" CMOS, Effective pixels: 12M

Thermal Resolution:

1280x1024

Unfolded Dimensions:

470x585x215 mm

Weight:

3.7 kg (8.2 lbs)
The new DJI Matrice 30 series are DJI Enterprise's flagship drones that fits in a backpack. It integrates multiple high-performance sensors into one single camera payload, is controlled with an ingenious redesigned remote control and runs on upgraded Pilot 2 software, which significantly improves the flight experience. The M30 series offers much more power, endurance and capability for rugged professional uses, while its size makes it ideal for easy transportation and fast setup. Apart from its outstanding performance and new format, the DJI M30T allows professionals to fly and perform beyond their immediate surroundings. It integrates smoothly with the new DJI FlightHub 2 fleet management cloud-based software and the DJI Dock for collaboration with remote and unattended operations, bringing efficiency innovation to various industries. The DJI M30T also offers an improved first-person view pilot camera for low light conditions, built-in redundancies and backup systems, three-propeller emergency landing, a Health Management System, and six-way obstacle avoidance sensors enabling the pilot to focus on the mission. Its four-antenna OcuSync 3 Enterprise transmission ensures a strong redundancy, and it supports LTE link backup, in the face of complex terrain and working conditions.
M30 Series drone (M30T)
DJI RC Plus
TB30 batteries x2
BS30 Intelligent Charging Station
Hard travel case
Transport in vehicle alongside other equipment
Quick gimbal lock option for protection
Dual vision & Infrared ToF sensors on all 6 sides of the aircraft
Customizable brake distance
Anti-collision beacons
Flight Interface: Improves efficiency and safety, clear presentation of flight details and navigational information, works seamlessly with the DJI RC Plus, and ability to connect to FlightHub 2*