Drone Aviator Hood Kit for iPad Mini
Safety Equipment & Field Ops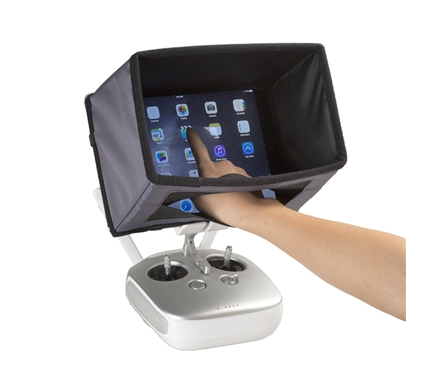 The Hoodman Sunshade Hood model HAV1 mounts to iPad mini or 8-inch tablets to give drone pilots the best glare free outdoor viewing possible. Hoodman's 4- sided Hood blocks light from hitting the screen from all 4 sides. Three sided visors miss blocking 25 % of the glare. The patented, pierceable bottom panel facilitates touch screen access without compromising glare relief. Two adjustable mounting straps with quick release clips make hood mounting quick and easy. A horizontal safety strap has been built into each hood to prevent iPads / tablets from falling forward out of controller jaws. Hoodman has a reputation for building long lasting durable Sunshade Hoods. The rugged nylon sewn over plastic inserts has proven to be a great way to build long lasting durable Hoods. We know because Hoodman has been building Sunshade Hoods for over 33 years. Sunshade Hood base measures 7.5 inches horizontal by 5.5 inches vertical by 5.25 inches deep. Hoods mount on the front face of iPads / tablets. Sunshade Hoods fold flat for easy storage and transport. Extenders are offered for total block out of light in the HAV1KIT.
The HAV1 aviator hood for drone pilots for drone pilots mounts to your iPad mini for improved outdoor viewing
The bottom panel of the aviator hood has a unique pierceable feature to aid in touch screen access
Two adjustable mounting straps make mounting quick and easy
A horizontal safety strap prevents iPad from falling forward out of its mount
Hood mount measurements: 7.5" W x 5.5" L x 5.25" D
Hood mounts on front of iPad
The HAV1E is an extender hood that mounts over the HAV1 hood for times when drone videographers/photographers require a longer viewfinder hood for optimum glare free outdoor iPad Air 2 viewing
Overall distance from iPad Air 2 with extender: 13"